A Snow Covered Spring
April 1-12, 2011
Visitors from afar: Kevin, Melissa, Kai and Mae from Encinitas, California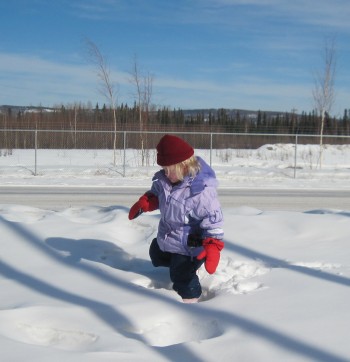 Mae for the first time in her life really upclose to the snow. And she's loving it!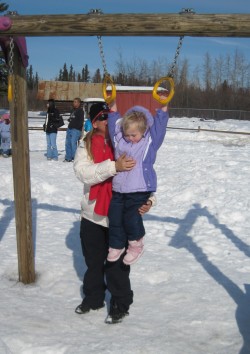 Hold on Mae!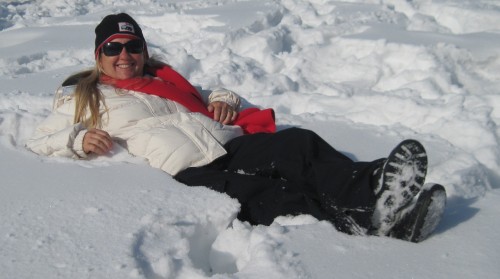 California blond in the snow.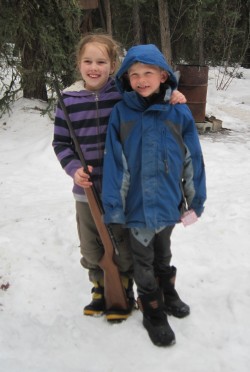 Cheyenne and Kai have discovered a new hobby.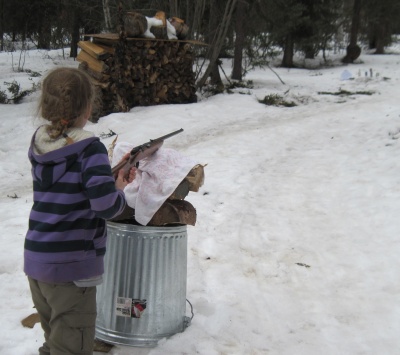 Ready...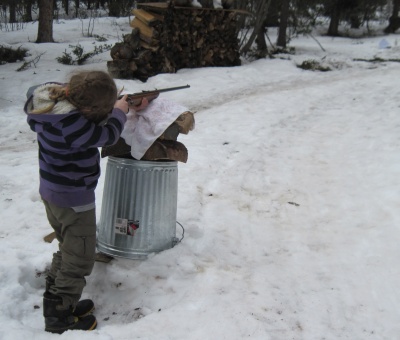 Aim...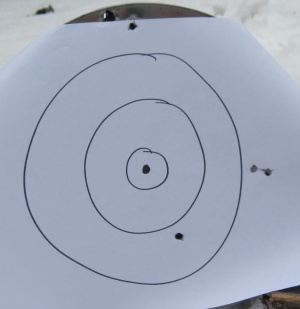 Fire...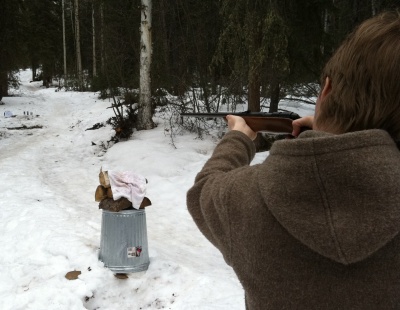 I get some shots off too and hit a couple as well.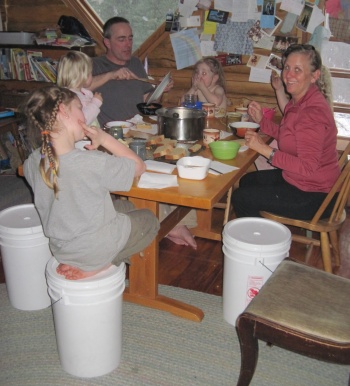 Supper time!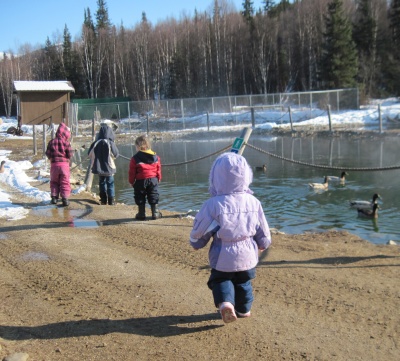 At Chena Hot Springs, where even the duck pond is heated.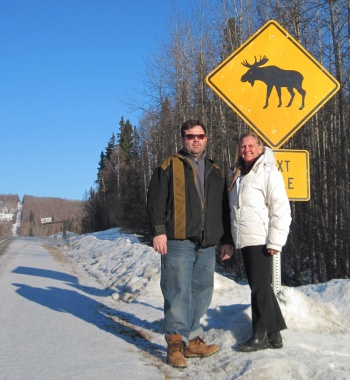 A popular sign.
Cheyenne and Kai got the chance to go ice fishing with Kevin and Bill.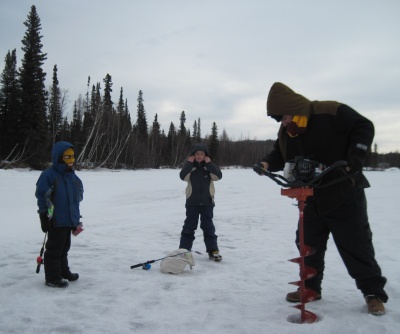 Step one: Drill a hole in the three foot thick ice covering Birch Lake.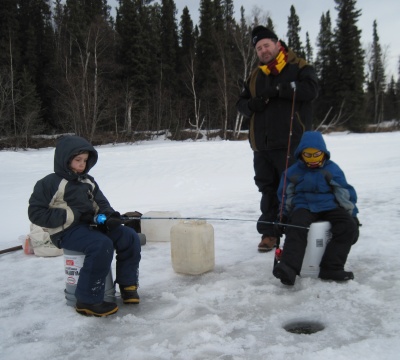 Step two: Start fishing.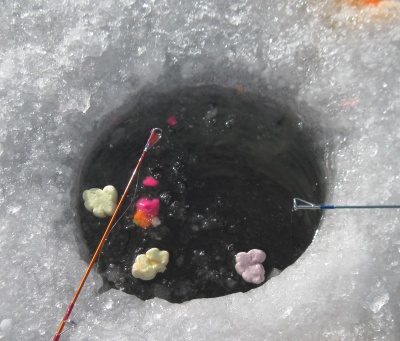 Step three: Wait for nibble.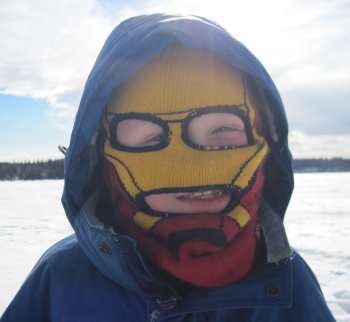 Step four: Stay warm.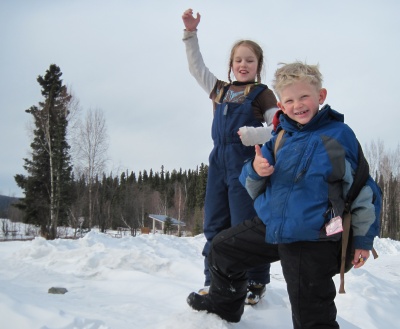 Step five: Give poles to the dads and have fun with your friend.
Due to a lack of "catch" there is no step six.
To the Science Fair at the University of Alaska.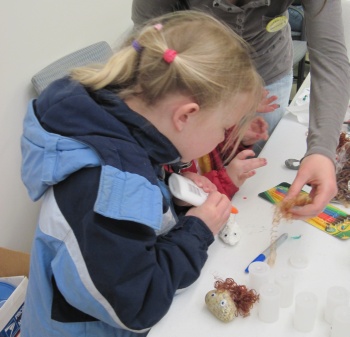 Making rock pets.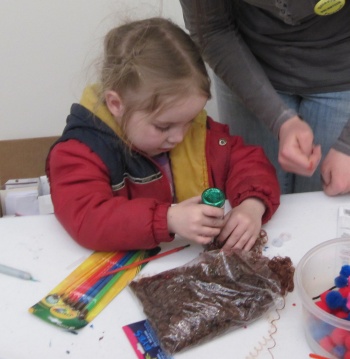 Robin works meticulously on her rock.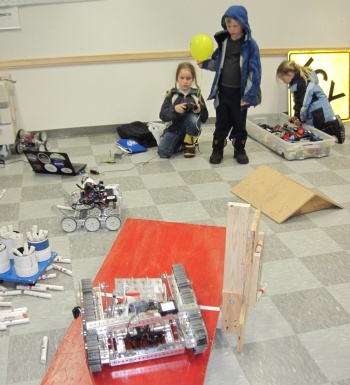 The robotics area is of greatest interest to all.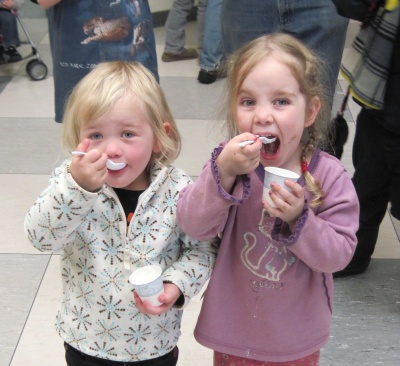 Mae and Robin enjoy some fresh made ice cream.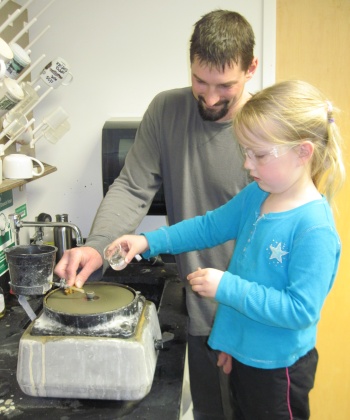 Jasmine gets to help smoothing a side of a rock.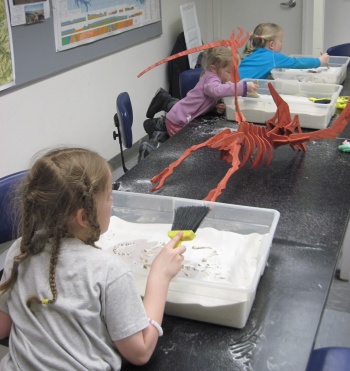 Digging for bones.
A stay at the Marriott.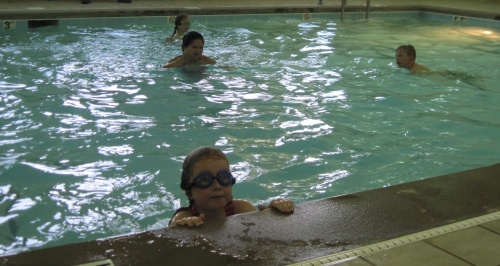 Jasmine enjoys the pool.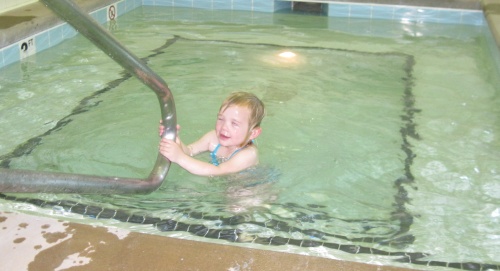 Mae goes for the hot tub.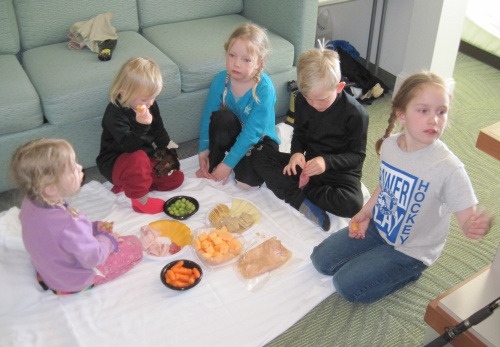 A nice snack after swimming.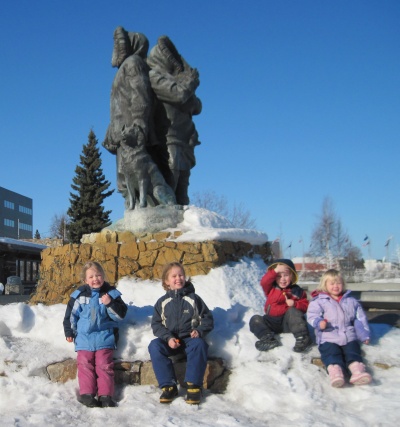 Gone Geocaching.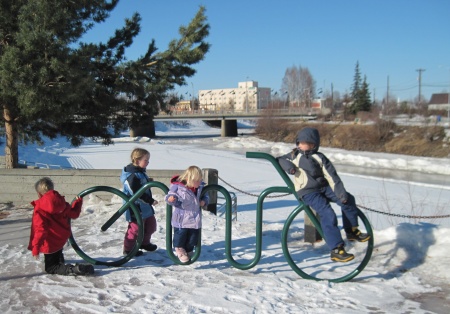 We look all over the park, and have fun in the meantime too.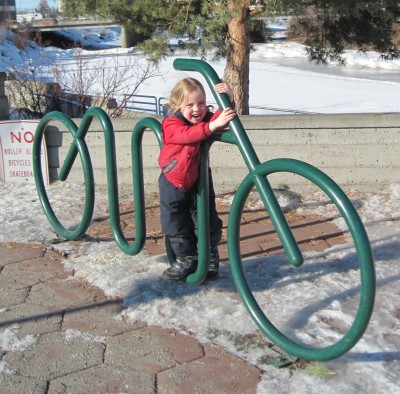 Robin found a bike for herself. Just her size...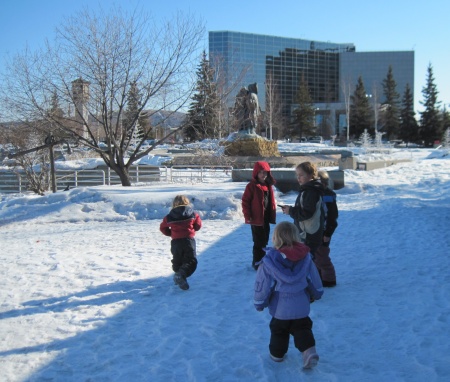 We're still looking. This is a wonderful outdoor activity with the kids.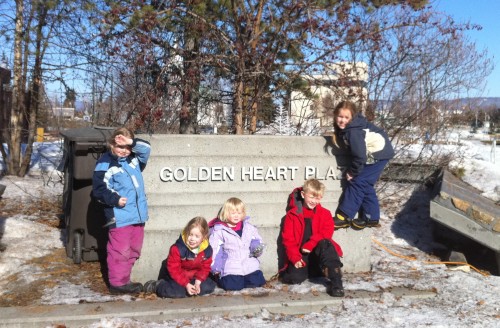 Mission complete. We found the cache near the Golden Heart Plaza.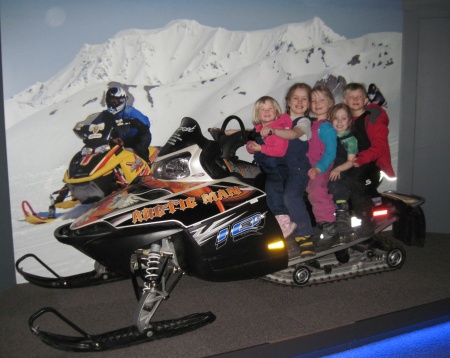 We finish our search with a visit to the Visitor Center, where the snow mobile is the greatest hit.
April 16+17, 2011
My brother-in-law Peter is working for two and a half week on Eielson Airforce Base. Right here in Fairbanks. What a wonderful coincidence. We borrow a car from John and Johnna so we can spend the weekend together.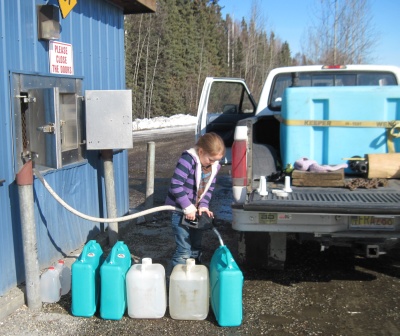 On the way back. Cheyenne shows Peter where our water comes from.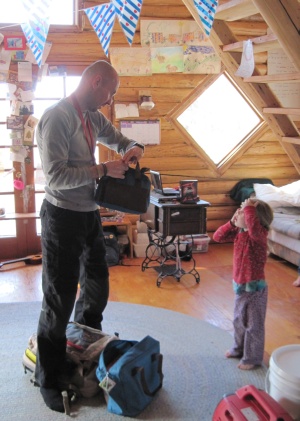 Robin waits full anticipation what gifts Peter is bearing.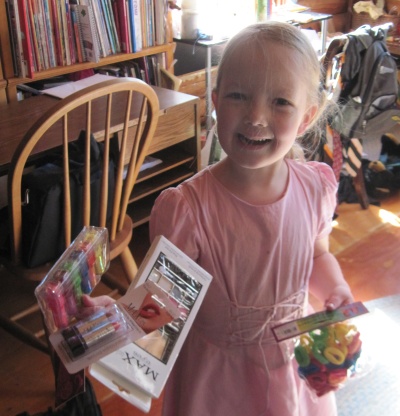 Jasmine is very happy with her new make-up. Now all she needs is her aunt Magdalena to come and visit to teach her how to use it well!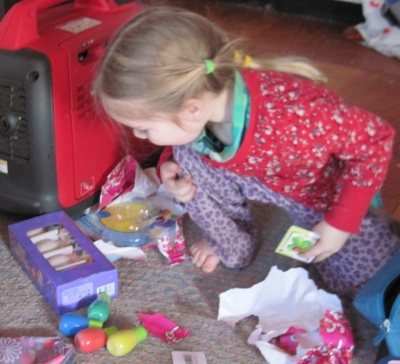 Robin is organizing her paint supplies and is planning her strategy on how to use it.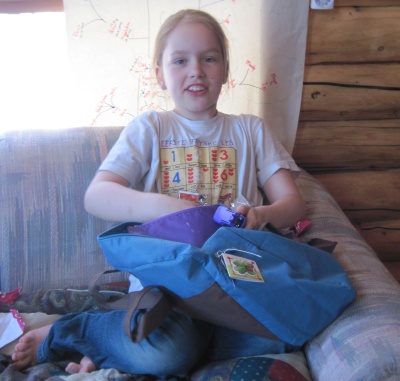 Cheyenne is excited with her office supplies and Dutch reading books.
For myself there was a big bag with lots and lots of muisjes! Bedankt voor alles hoor! Heerlijk, leuk en gezellig!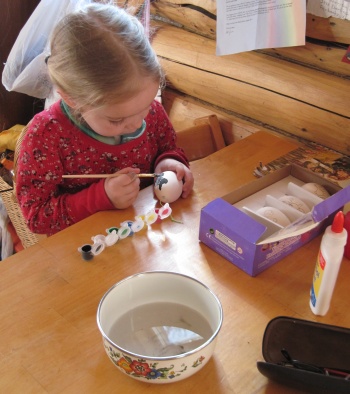 Robin starts with painting the eggs.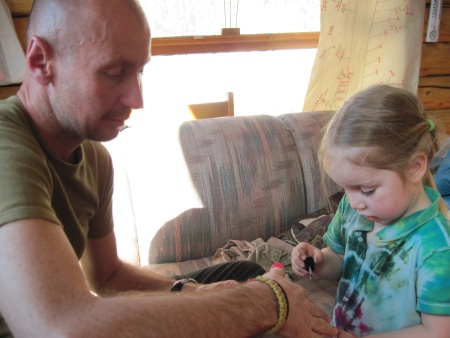 Next come Peter's nails.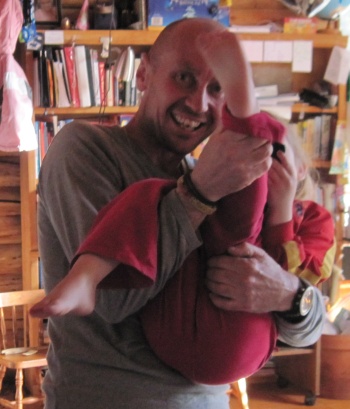 Then it's tickle time!

Brushing Jasmine's hair.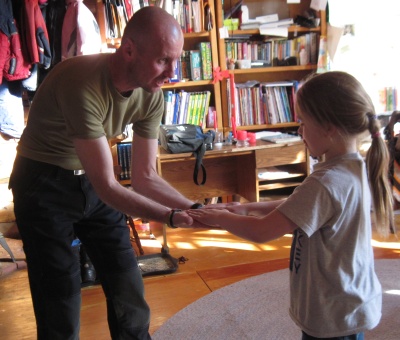 A new game in agility.
On Sunday morning it is time for the first ride of the year on our quint.

Our old ride next to our new ride.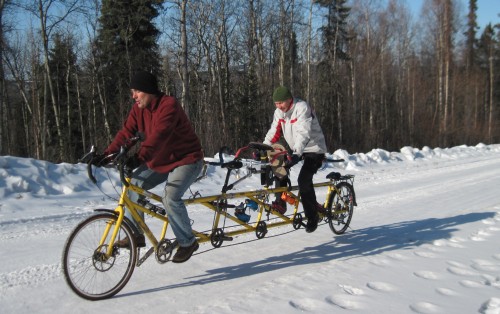 Three, two, one... Go! Bill and Peter test ride first to get a feel for the slippery ness of the snow.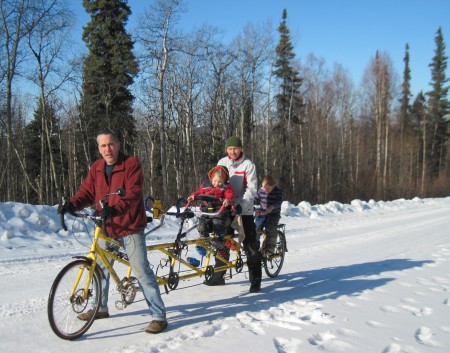 Robin and Cheyenne are ready to ride too. Cheyenne notices that her saddle and hadlebars need to be elevated.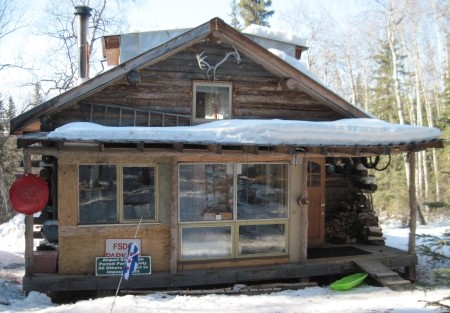 The cabin looks naked without the bicycle hanging on it.
The Pedouins are on the road again! A wintery spring ride on Darling Avenue in the hills north west of Fairbanks, Alaska. Look at Robin! She's ready for a chain to help in the pedaling effort. Peter, of the Dutch Airforce here on a Red Flag Mission at Eielson Airforce Base, gets to come along for the ride!
---
Getting Ready for Winter
Our First Month in Fairbanks.
Winter is Coming!
Our Second Month in Fairbanks.
Winter is Here!
Our Third Month in Fairbanks.
Life in a Winter Wonder Land
Our Fourth Month in Fairbanks.
A New Year with New Adventures
Our Fifth Month in Fairbanks.
Buried in Snow
Our Sixth Month in Fairbanks.
Crawling out from under the darkness
and from under the snow
Our Seventh Month in Fairbanks.
---