Buried in Snow
February; the last full month of winter.
And it showed it too!
Enjoying fresh snow is loads of fun!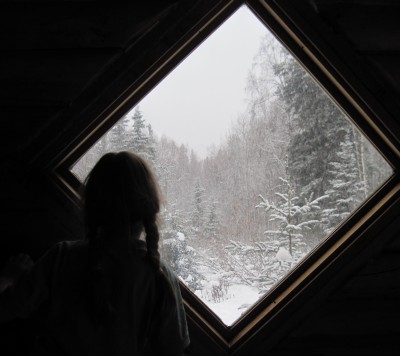 Arrival of new snow.

Our cabin in fresh snow.

The new snow has filled the buckets up quite a bit.

Time to take the sleds up for a new bout in fresh snow.

Robin and Jasmine are taking a bath in the snow.


Cheyenne sprays up the loose snow as she takes the curve with high speed.

Jasmine and Robin fly by.

Jasmine is on her way down.

What a beautiful day in the snow.

As long as the temperature stays between 0 and 60 degrees, we'll be able to see it.
There is loads of fun indoors too!

Tea time!

Jasmine is ready.

Fun with yogurt, preserves and sprinkles.

Ready... Set...

Go!

Jasmine built this fire starter.

Let's see how it works.

It's doing pretty good!

Cheyenne is designing a space center for on the moon.

Using the legos she built a wall that represents one side of the building. I help her with calculations to find out how many bricks she'd need to build the space center.

Jasmine makes a drawing of Saturn.

Robin prepared a snack.

The first Pedouin Spelling Bee.

Robin is engrossed in the dictionary.

The final purse has rolled off the press!
Saskia in Alaska
We've crawled out of winter and are jumping into spring. Winter has not been as harsh as we'd anticipated, yet it has been tough nonetheless. Nature took it easy on us, providing temperatures rarely dropping below 20 below, little wind and plenty of snow. We haven't been easy on ourselves though. Writing a book that we are pleased with and proud of is an enormous task. We have the flow down well; a go around of writing, rewriting and editing. The first draft of the final chapter is almost finished. Then also that one can go through the rounds of rewriting.
Nothing goes as fast or as smooth as we'd hoped. Some expected and unexpected events of life and living have taken place in these past weeks. The visit of our dear friend Saskia was expected, very enjoyable and very helpful. She helped us deal with some of our struggles; whether caused by the dark of winter, the accumulation of "things to do" or the lack of communication between two highly stubborn people (Bill and I).
Saskia came for cold weather and she got it. It was around 20 below for the duration of her stay. She had a chance to enjoy many of the winter activities. Indoor and out. Nearby and a bit further.

Is it cold enough?
At the cabin

Saskia did not come empty handed. She brought a huge box filled with sprinkles, books, cookies, mechanic tools, a foot pump to pump water with in the bus, and what not.

Special European tools from my parents to Bill. He'll need these to work on the bus with.

Saskia and Bill and the new tools.

Cheyenne is looking through the bag of electronics she received from Pake. The apparatus she's holding in her hands is for on a boat. It tells you if the boat is level or not. Cheyenne has plans of building a robot. With this bag full of electronics she can get started.

When Saskia is in town, there is never a dull moment. She is going for a snow bath at 20 below!

Jasmine is joining her for a bathing suit sled ride.

Yeehaa. They get a shower too!

Making sure no spot is missed.

Playing Uno. Robin can play it too and is very shrewd.

making coffee can bread.

Morning snuggle.

In the igloo.

Enjoying the snow.

And somewhere during this time it was my birthday too. Card by Cheyenne.

Warming up with a movie.
In the area

Out for a nordic walk.

I'm pulling Jasmine up the hill through the deep snow.

Mrs Claus.

Ready to dive into the woods?

Oops.

Finding our way between the trees.

These girls are wrapped.

On skis once more.

A frozen result after a ski-walk of an hour and a half.
Tie Dye with Jennifer

Jasmine the snow angel.

Cat hug.

Jennifer explains tie-dye-ing.

Jasmine also got to go.

Saskia goes for the spiral pattern.

After the shirt is shaped, tied with rubber bands and soaked in a solution it is time to add some color.

Tied, colored and wrapped. Now it is time to wait.
Out and about

At the visitor center.

on the Chena river.

At the pipeline.

At the hilltop cafe.

Visiting the Museum of the North.

Proof that it's been cold (in temperature).

A visit to Alaska is not complete without a sighting of Mt McKinley.

The sun sets in the low hanging clouds.
A day to, at and from Chena Hot Springs

On the way to Chena Hot Springs we find three ptarmigans on the road side.

On the road.

A moose. It's a day of wildlife. On our way out we saw a red fox on Darling Avenue.

Jasmine in flow motion, while Cheyenne enjoys Saskia the sea horse.

Robin is very comfortable walking in the shallow water.

Steam flows through the ice hole. Lauri came with us too!

Friends.

Rock lake landscape.
The last moments

Time for the final run down the drive way.

Bedankt Sas!
---
Getting Ready for Winter
Our First Month in Fairbanks.
Winter is Coming!
Our Second Month in Fairbanks.
Winter is Here!
Our Third Month in Fairbanks.
Life in a Winter Wonder Land
Our Fourth Month in Fairbanks.
A New Year with New Adventures
Our Fifth Month in Fairbanks.
---