Monday, July 12, 2010
Today 36 miles, Total 6,105 miles
Campsite: At Homestead RV Park, Palmer, Alaska
Weather: Short sleeves today!
Flat tires: 0, Total 22
Falls with bicycle: 0, Total 8
Bear Count: 0, Total 2
Moose Count: 1, Total 1
We're starting slow today. Do some updates on the website, check the email once more. Our departure time is 11am. Then we're on the road again! James and Owen are taking us via the bike paths out of Anchorage.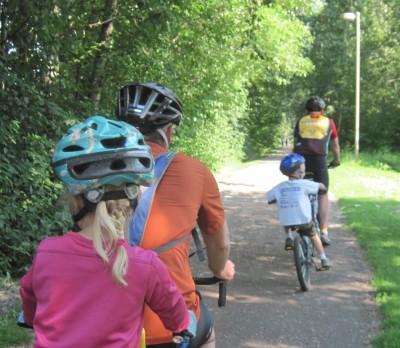 James and Owen lead the way through Anchorage.
It's a beautiful day to be out riding. The sun is out. We're wearing short sleeve shirts. We actually put sun screen lotion on before we left! It's a terrific day. The ride out of town doesn't present big problems. Just one hairpin turn and a couple of 90 degree turns into tunnels. We make it safely through all and arrive on the bicycle path towards Eagle River.

A 90 degree curve into the tunnel.
Erin is waiting for us at the end of the tunnel. A final family snap shot. Thanks for giving us a memorable time in Anchorage!

Thanks Erin, James and Owen! We had a great time with you.
The path is great. The Glenn Highway is on our right. Traffic is whizzing by. The path is nicely separated and meanders between the the highway and the moose fence. We're rolling over the little hills. Just several miles further we're taking a break in the tall grass. It's already lunch time.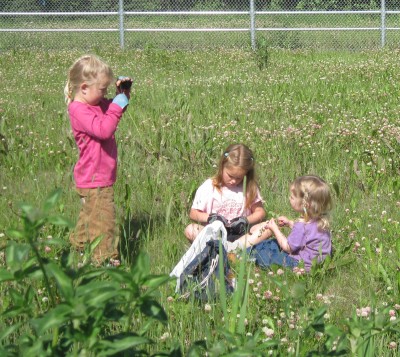 Taking a break in the tall grass.
That feels better. Now we can move on again. Robin takes a handful of grass with her for further entertainment.
Just south of Eagle River we cross the road and enter the town. A potty break is necessary, thus we head further into town. The golden arches are already visible. Yes, there is a playground. Thus that's where we stop. It's a much longer break then we realize. But the girls are having a great time and we're meeting nice people.
We don't have to backtrack. We can just continue up the road. There we can pick up the bicycle path again. The hills are becoming more serious. We climb up, then roll down to the next creek. Then we're going up again.

Light at the end of the tunnel.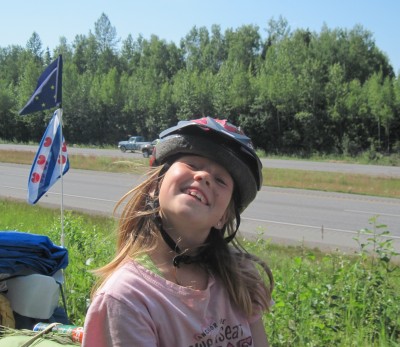 Cheyenne is on the trail. What a day!
It's strange to have this late a start. Yet we don't have to feel rushed. Daylight hours are long. Very long. And with the sun in he sky, it feels even longer. We're aiming for Palmer today. Actually the intersection of Wasilla and Palmer. We have a place to camp at the Homestead RV Park. It's a 30+ mile ride. Quite a wake up call after so many weeks of limited riding.

Another sunny break. Enjoying the shoulder of a side road.
It's marvelous taking breaks in the grass. A different kind of freedom. The bike path has stopped. We're on the shoulder of the road. It varies in size due to a variation of gravel and sand on it. It becomes quite challenging at times.

Stuck in the gravel/sand. Great job keeping the bike upright Bill! Phew. This shoulder needs cleaning badly!
We push the bike out of the sand until we're clear to ride again. We can feel the miles in our legs. It feels good to be active again. We keep on pedaling. We cross the Knik river. We can see the campground off in the distance at the foot of Pioneers Peak.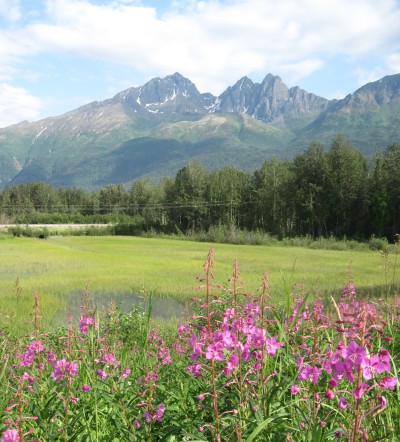 What a view!
The terrain flattens out. Lots of room to spot moose. We keep looking left and right. Amarins is the one to spot the first moose. Way off in the distance. At least a quarter mile away. But it's there nonetheless. Moose number 1!
The Wasilla/Palmer junction is coming up. And what's on the sign? Our final destination! Fairbanks. This is the first time we've seen Fairbanks on the sign. It gives a strange feeling to be this close to our destination. Wow, we're making it. Almost a year ago we left Mount Vernon, Kentucky. Almost a year to get here...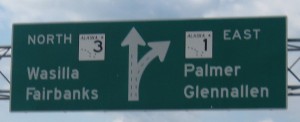 Fairbanks is on the sign!
Before we turn on the Parks Highway, we continue on the Glenn Highway. Just another mile and we land on the Homestead RV Park, where a warm welcome awaits.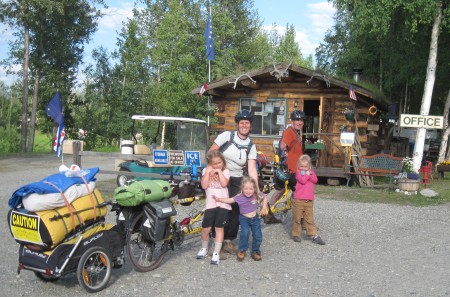 We're at Homestead RV park.
The tent sites are full. But no worries, there is an even better spot. Right on the edge of the property, with a fire ring and a view... just wow.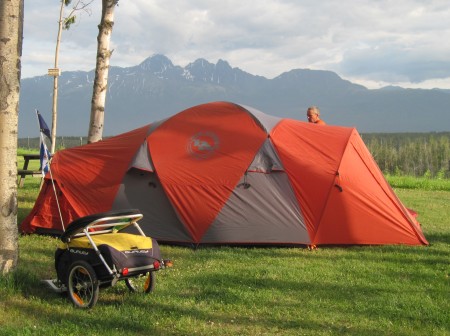 Camp Pedouin at the foot of Twin Peaks and Pioneer Peak (not visible in this picture).

Robin is finding letters. She put a rock on the paper to keep it from blowing away! Problem solver girl!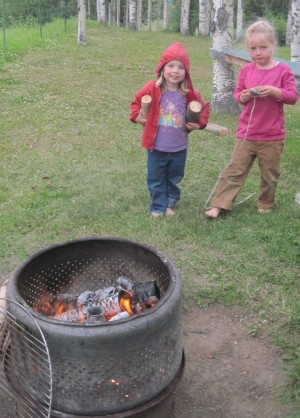 Let's add some more wood to the fire.
Click here for more pictures of today.
Today 10 miles, Total 6,115 miles
Campsite: At Mat-Su Dental Lab, Wasilla, Alaska
Weather: A rainy morning into a rainy evening.
Flat tires: 0, Total 22
Falls with bicycle: 0, Total 8
Bear Count: 0, Total 2
Moose Count: 0, Total 1
It rained last night. A soothing sound on the tent. It keeps it a bit darker inside too. Before we know it we've slept in and it's after 9am. It takes us a while to get ready, but by noon we're finally on our way. Today we're only going to Wasilla. Some seven miles up the Parks highway. We're going to do some sight seeing.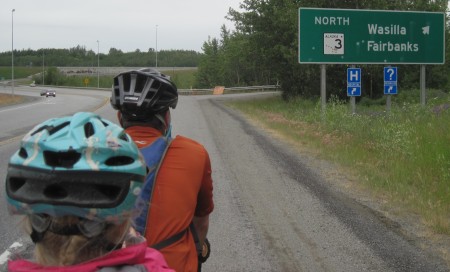 We're turning onto the Parks Highway to Fairbanks!
Before getting to Wasilla we first stop at the Mat-Su Visitor Center. A package of information is waiting for us. Cheyenne watches a little movie about the area. Robin and Jasmine enjoy a dog sled on display. It's a nice visitor center with lots of information. We could easily pack a couple of pounds worth... but we don't. Amarins does buy a map though. The first one on the trip. It's the map of the Parks Highway, with exact milemarkers for where to find camping and/or groceries.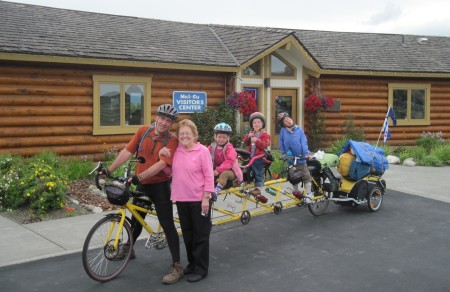 We receive some good information about the area from Loraine and Casey at the Mat-Su Visitor center. Thanks!
Several snappy little hills lead us to Wasilla. We keep our eyes open for the Windbreak. A recommended restaurant. We're ready for a late lunch, perhaps can even call it a super late breakfast. It's a bit cooler today then it was yesterday, thus something warm to eat will be nice. It's 2.30 when we finally sit down.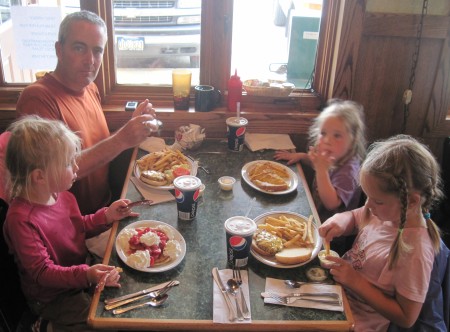 A late lunch at the Windbreak in Wasilla.
While we're eating we receive a call from Roger (we met him and his son on the road yesterday). We can stay at his dental lab in town tonight if we're interested. That sure is great! of course we say yes.

Mason awaits us down the road a bit. He is going to guide us to our destination for today. Thanks Mason!
Today is almost done when it comes to sight seeing. It'll have to wait for another day. Amarins is not feeling to well, with a runny nose and a cough. A good night sleep will make sight seeing a much more enjoyable experience.
Click here for more pictures of today.
Today 0 miles, Total 6,115 miles
Campsite: At Mat-Su Dental Lab, Wasilla, Alaska
Weather: A day for the great outdoors.
Flat tires: 0, Total 22
Falls with bicycle: 0, Total 8
Bear Count: 0, Total 2
Moose Count: 0, Total 1
Mason whippes up a cinnamon roll breakfast. Delicious. That's a good start for the day. Today is going to be even better. Erin and Owen are coming to town. We're going to go sight seeing with them.
An upclose look of the rims brings unpleasant news. The front rim is cracked. Probably 30% on one side. The rear rim is cracked even more so. Basically 100% on both sides. A call to our favorite bikeshop Spin Lite Cycling in Hiawassee, Georgia, does not result in good news. The rims are still on back order. We have to find another way.
A couple of doors down from the dental lab is a bike shop. Bill decides to ride the bicycle down there and inquire. The shop can obtain different rims. As long as the rims will work, we don't mind. Bill puts in the order. Our spokes and hubs are still fine, so we can reuse them. But of course not while we're still on the road. Since the new rims won't be in untill next Tuesday, we're going to take the chance that the cracked rims will take us to Denali National Park. By that time it'll be Tuesday and the new rims will be in. We're planning on spending some time in Denali, without riding the bicycle, so that would work out great.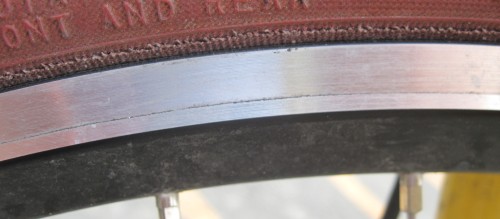 Trouble with the bicycle. The rims are cracked again. Front and back.
By mid morning Erin and Owen arrive. We're all loading up in the car and head for the Iditarod Headquarters. Inside the headquarters is the trinket shop, always hard to steer the kids through. There is also a room with information about the Iditarod. It's great for grown ups who want to learn more about the race. For the kids it's not too friendly, since there is nothing they're allowed to touch. We don't stay too long before heading to the dogs. Erin surprises us with tickets for a dog sled ride. Due to the lack of snow, the sled is traded for a cart on wheels.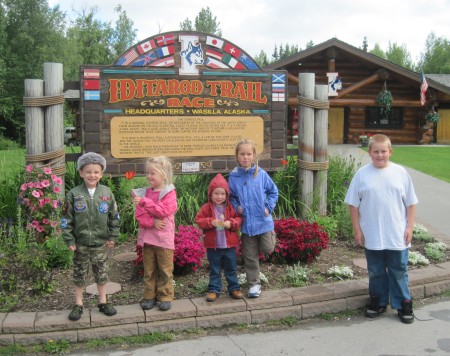 We're at the Iditarod Trail headquarters.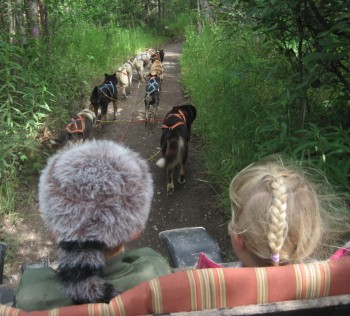 We're on a dog-cart ride! Exhilarating!
The ride is a great experience. Enjoyed by all. Too soon we're to the end of the loop. We could certainly go for much longer. Thanks Erin! What an experience.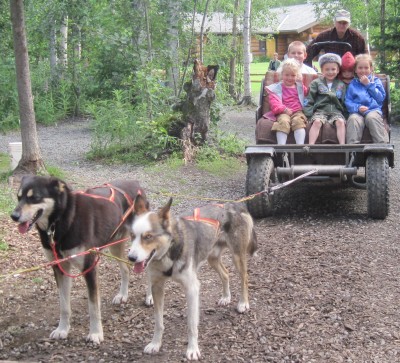 Group picture with two of the eight sled dogs. We went really fast!
After the Iditarod Headquarters we head back 'home'. A potty break later we're back in the car, this time with Bill too. We're going to the Museum of Alaska Transportation and Industry. We're having lunch in the picnic area on the premises.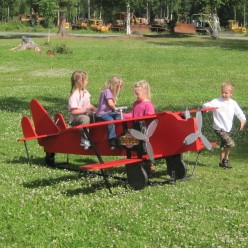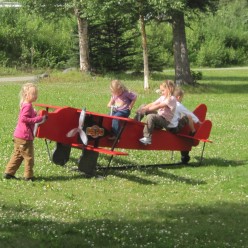 Lots of fun on the airplane.
The museum is all touch and feel and enjoy. The girls and Owen are having a blast. Bill wanders off enjoying the old vehicles. Not to be seen for quite a while. Flying a plane, walking through a train, riding tractors, a bus or a skidoo. There is lots and lots to see, do and explore. Perfect for the little ones. Great for the bigger ones.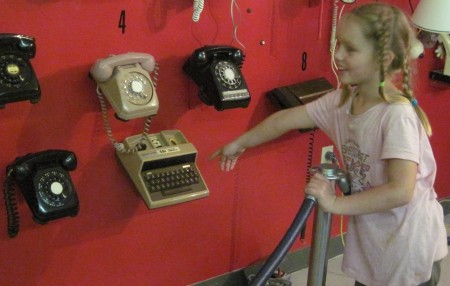 Cheyenne admires the old telephones.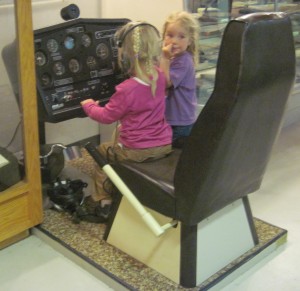 Jasmine flies an airplane. Lots of buttons to press and levers to pull.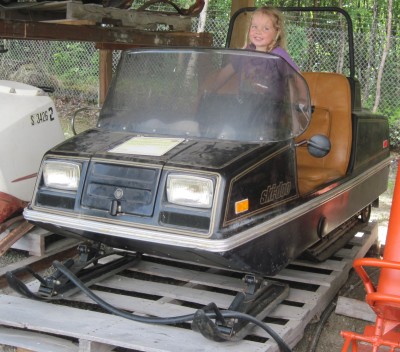 Robin found a ski-doo. Where is the snow?

There are lots of old transportation vehicles to explore. A hands-on exhibit.
This was great. And the day isn't over yet. There is also a great playground to enjoy, right across from the dental lab.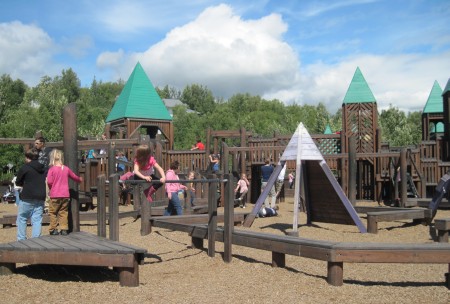 Find us on the playground.

Balancing their way across the dog sled.
The rest of the evening is enjoyed with playing outdoors, watching tv, having supper and another trip to the playground. Bill and Roger have other things on their hands though. They're going to J.B. Weld the rims in the hope to make them last longer...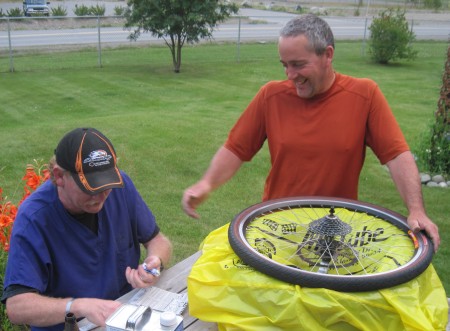 Going for the fix with J.B. Weld. Perhaps it'll hold the rims all the way to Denali, perhaps even Fairbanks.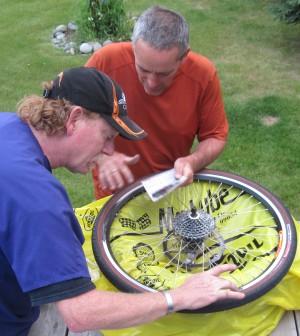 Paste away
Click here for more pictures of today.
Today 30 miles, Total 6,145 miles
Campsite: At the Community Center, Willow, Alaska
Weather: A rainy morning gives way to a sharp blue evening.
Flat tires: 0, Total 22
Falls with bicycle: 0, Total 8
Bear Count: 0, Total 2
Moose Count: 0, Total 1
Fox Count: 1, Total 1
A rainy morning. It happens. We're getting ready to go anyway. Just extra slowly. Amarins has some grocery shopping to do. Time to load up on some supplies.
It's late morning when we're ready to roll. We're not rolling out of town yet. First we're going to the Metro Cafe up Lucille Street. Coffee and hot chocolate await us there. Plus a nice cinnamon roll too. It's such a nice and comfortable place to hang out. We meet a lot of great people. One of them is Laurie. She's been looking for us. She has a camper for u to stay in tonight. If we'd like... Sure! Thanks!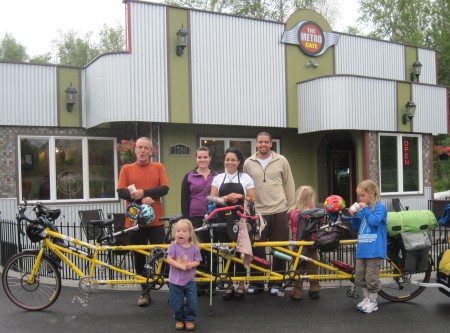 First break of the day. Just up the road to the Metro Cafe on Lucille Street.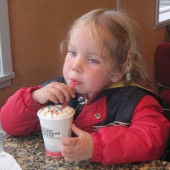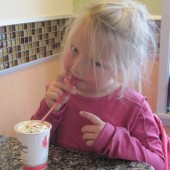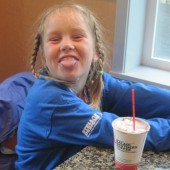 Hot chocolate with whipped cream and sprinkles!
When we're finally on the road, it's 2pm. The rain has stopped, give or take some sprinkles. We catch the bikepath out of town. It takes us into the woods, just far enough away from the highway that we can imagine to be in a forest.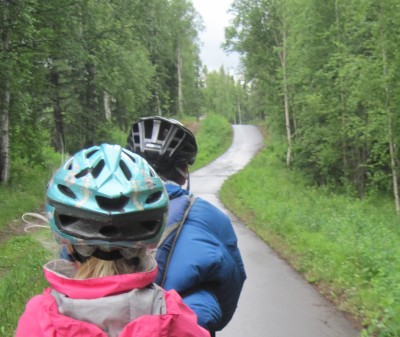 On the bikepath.
We ride along the train tracks, past fields, through the forest. The scenery keeps changing. Due to the low laying clouds, we cannot see the mountains. Any of them. We're riding in a hilly area. Meandering up and down from creek bed to creek bed.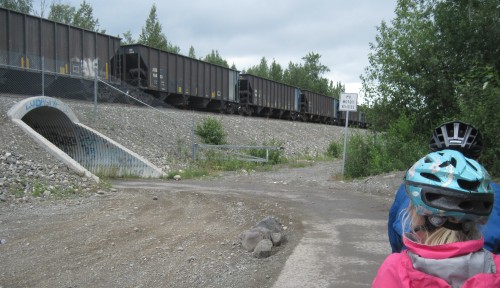 We're going under the train!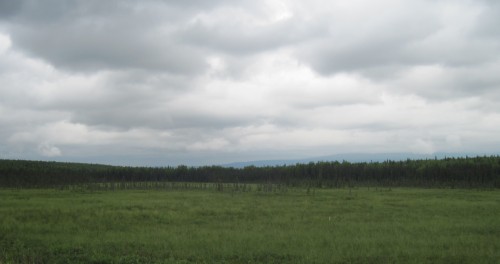 The flats.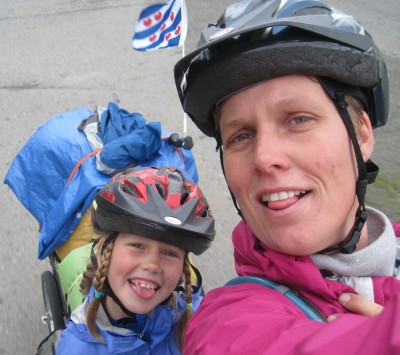 Don't forget. We're on the bicycle too!
At mile 60 we find a road side restaurant. It's located on top of a hill, with a beautiful view over the marshes (as we call them). A good place to take a break.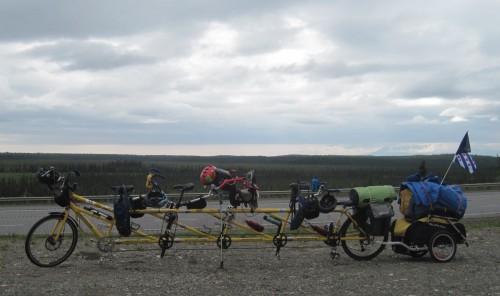 The beast and our gear. We've come a long way.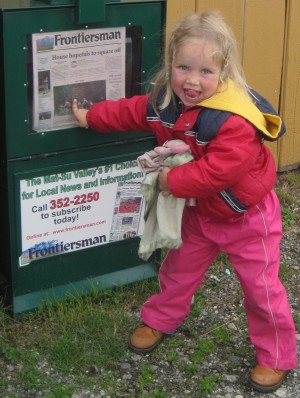 Look who's in the paper...
We stop just south of Willow, near Nancy Lake. We're awaiting news from Laurie. She's been checking out camping spots for us. While we're waiting we cause quite a stir. Several people stop to meet us. One of them we met while we were at a fruit stand in Hueneme, California, buying fresh strawberries! That was over 2,000 miles ago.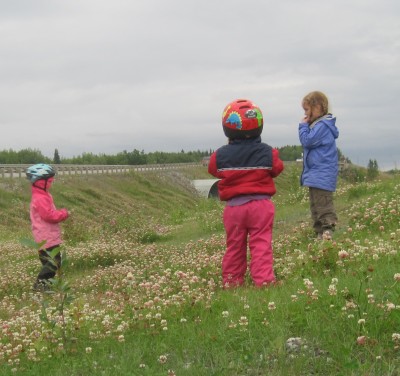 The girls between the flowers.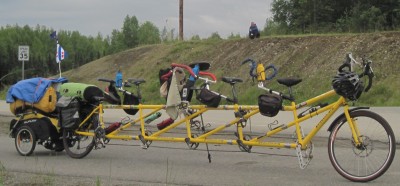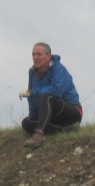 Bill on the hill. Deep in thought.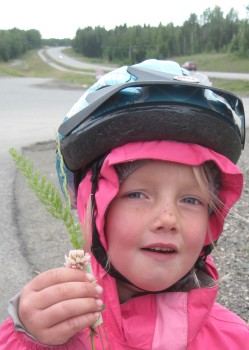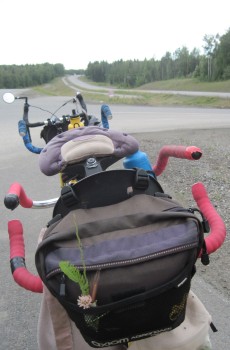 A flower bouquet for mom.
Laurie has found a camping spot at the Willow Community Center. Of we go again. Two more miles and we'll be there. As we continue on the bikepath, a fox crosses the road in front of us. What a sight.
As we turn around the building we see Willow lake. It's where the Iditarod has it's restart. The official start is in Anchorage, but due to lack of snow between there and here, the real race starts here.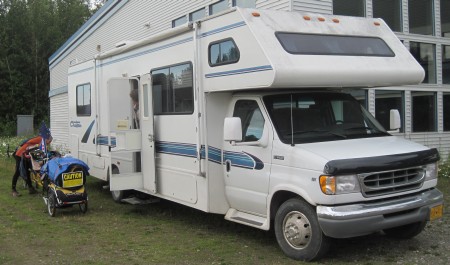 Our home for tonight. Thanks Laurie and Fred!
The spot is perfect. Right next to the playground, with a beautiful view over the lake. The sun joins in to make it even more picture perfect.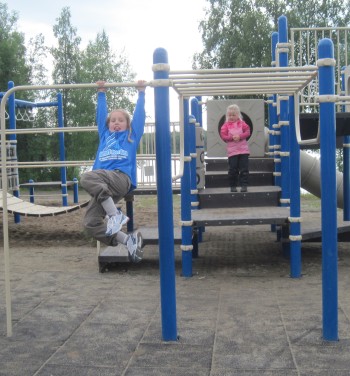 At the playground in Willow.
For supper we have homemade spaghetti. Delicious. The girls enjoy the big top bunk, watching the movie of Balto. How fitting. With the sun out, it stay's light. Amarins takes some pictures of the late evening sun. Beautiful across the lake.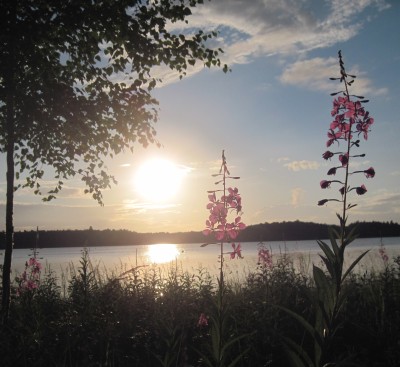 The sun is setting behind the fireweed. It's 10pm.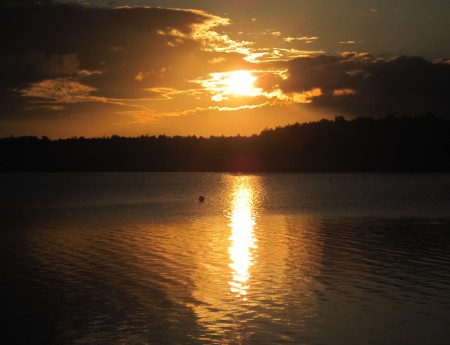 A golden sunset on this golden day. It's 10.40pm. Stunning.
Click here for more pictures of today.
Today 22 miles, Total 6,167 miles
Campsite: At Big Susitna B&B, Willow, Alaska
Weather: Sun and clouds are playing tag.
Flat tires: 0, Total 22
Falls with bicycle: 0, Total 8
Bear Count: 0, Total 2
Moose Count: 1, Total 2
Fox Count: 0, Total 1
Again the morning starts with rain. What a pattern. We decide to wait it out a little. As we're waiting the library doors open up. No doubt we're going to enjoy that for a while.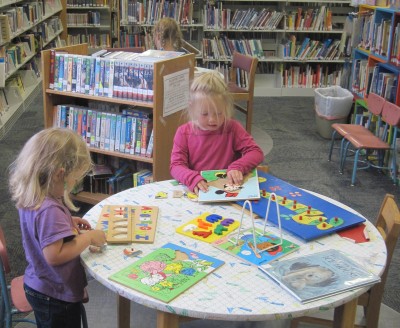 Enjoying the library.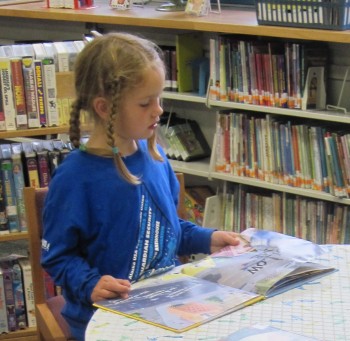 Cheyenne is engrossed in a book.
By late morning it's dry enough to head out. The bikepath takes us for a couple more miles, then dumpes us on a gravel path, before we can pick up the highway shoulder. We ride the shoulder until we reach a construction site. The road is being widened for several miles. We're going to need an escort to get us through it. The crew is very helpful and friendly. While we wait in line, Bill strikes up a conversation with two army rangers. He tells them about spending the winter in Fairbanks. This results in having a winters load of firewood offered to us. All we have to do is cut it and haul it off! Yes! Now all we need is the cabin and the wood stove.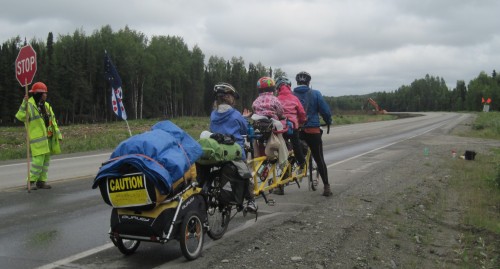 Waiting at the roadconstruction for an escort.
With the help of an escort vehicle we make it safely through the consturction zone. Part of it is totally gravel. With all the rain we've been having, it's quite the splatter fest.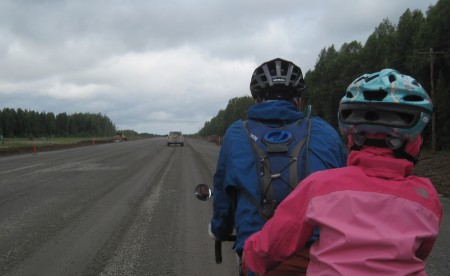 On the new gravel underlayer.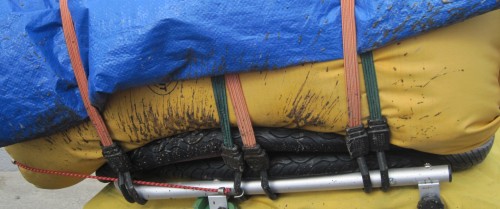 Soo nasty and gritty.
It stays dry the rest of the day. The clouds slowly move out, allowing the sun to warm us. It's probably in he upper 50s, lower 60s. Not bad.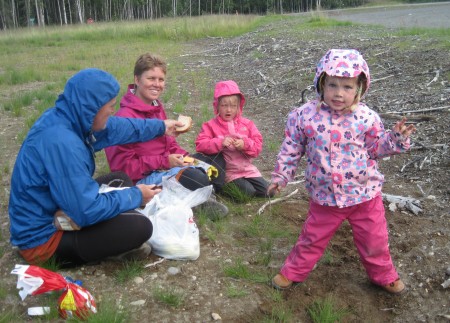 Break time. Who wants a sandwich?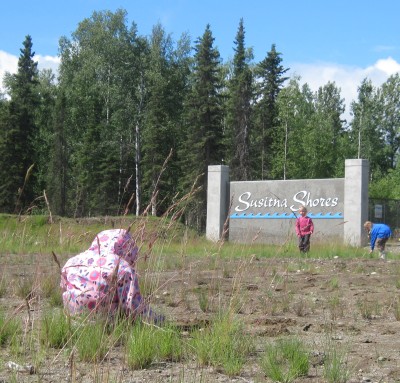 Robin digs in the dirt, while Cheyenne and Jasmine explore.
We have been invited to stay at the Big Susitna Bed and Breakfast, at mile marker 91.5. It's located a half mile of the highway. As we turn and finally see the house we see a beautiful log home, with flowers all around. Strawberries are growing in abundance in the front of the house. How beautiful.
Our room is big enough for all the girls to have a real bed. Soft and fluffy. The girls quickly find the toys. In between playing we give them all a bath, before we sit down at the table to have supper with Rhodi, the hostess. Thanks for the warm athmosphere!
Click here for more pictures of today.
Today 26 miles, Total 6,193 miles
Campsite: In Karen and Mike's backyard, Talkeetna, Alaska
Weather: It is summer!
Flat tires: 0, Total 22
Falls with bicycle: 0, Total 8
Bear Count: 0, Total 2
Moose Count: 0, Total 2
Fox Count: 0, Total 1
We had a great night sleep. The blinds worked great. Making it night, while outside it's still, or already, light. The girls love staying up till it's almost midnight, when it's finally getting dark. This results in sleeping in... often.
This morning we set the alarm at 7.30. Breakfast is at 8am. With a good night sleep it's good to be up on time again. Breakfast is a delicious display of fruit, hotcakes, sausages, juice and coffee. What a feast.

We've enjoyed our stay at the Big Susitna Bed and Breakfast. Thanks Rhodi, it was terrific.
By 9.30 we're ready to go. It's amazing. We haven't been this fast in a while. The urgency of the day ending is just not very big here. There is no rush to get to the destination by mid afternoon. Today though, we're ready to roll and see what Talkeetna has in store for us.
With a little bit off a tail wind and the sun on our backs, we're cruising along. There is less and less traffic on the road, the further north we go. From time to time a big touring bus passes. We're wondering where they are going today. With the clear blue sky, it's a good day to go sightseeing.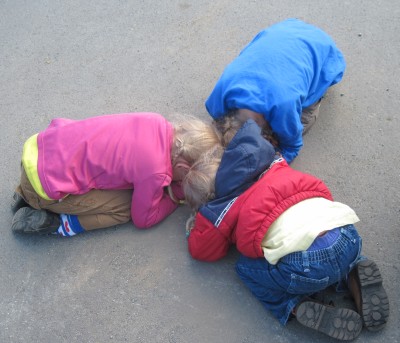 The girls are practising hybernating.
We take a break at the Talkeetna junction. Time to resupply with some groceries at the IGA. We're going to take the Talkeetna spur. A 15 mile road that ends in the town. We'll have to ride out the same way. We're in no rush to get to the finish in Fairbanks. We also want to see some sights. Talkeetna is one that has been recommended to us by many. If it's clear enough we can perhaps see the mountain.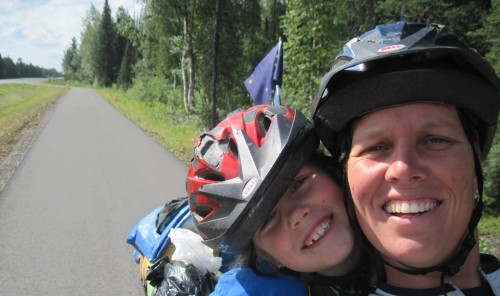 On the bike path.
While we were at the store we've been offered a camp site at mile 10 on the spur. Super. We'll set up camp first, then ride into town. We arrive in the early afternoon. Lots of daylight left to ride to Talkeetna and enjoy the sights there.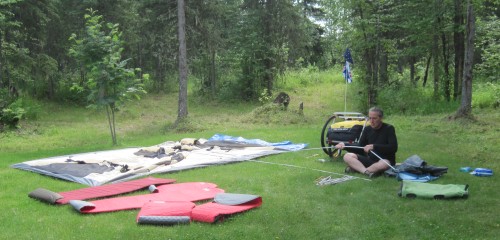 Setting up camp.

Jasmine and Cheyenne are enjoying the garden.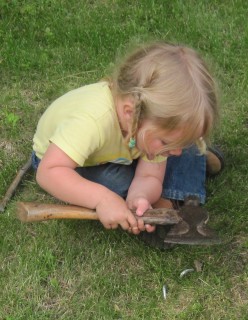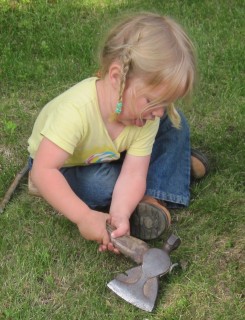 Robin is hammering in the stakes.
It's an easy four mile ride into town. It helps not having a full load of luggage. The playground is the first stop. Next we ride all the way through town to stop at the river.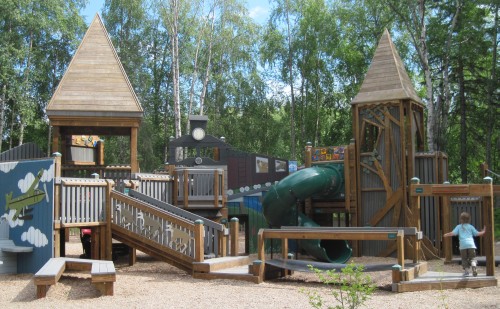 Another great play ground to enjoy.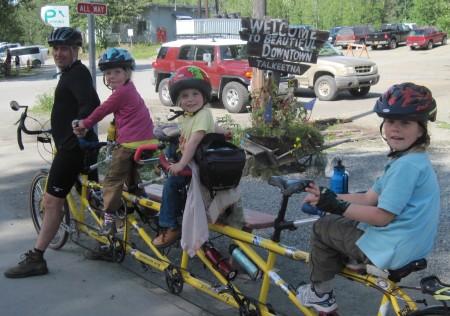 Welcome to beautiful downtown Talkeetna!
At the Susitna and Talkeetna River.

Cheyenne

Jasmine gets a lesson in rock skipping.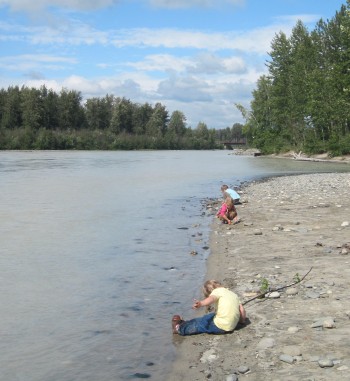 Enjoying the river.

Into the river.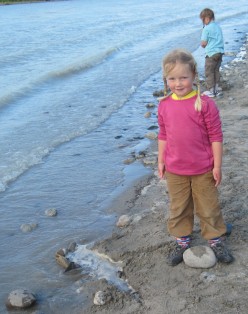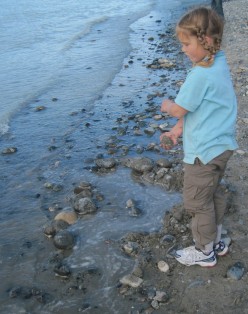 Jasmine and Cheyenne have worked on building a dam in the river.
On our way back through town we stop at the brewery for a hot meal. We can eat outside on the patio. It's lovely outside. Lots of people are walking through town, taking advantage of this beautiful weather.
Before we leave town, we have one more stop to make. There is a social at the fire station. With fire hoses spraying water all over the kids, that's something we don't want to pass up. Of course the pie and icecream are also irresistable.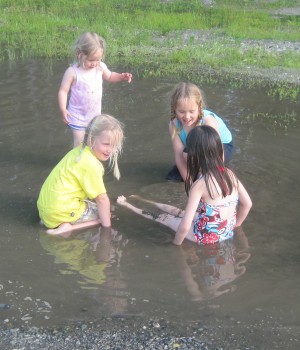 Enjoying the social at the Talkeetna firestation.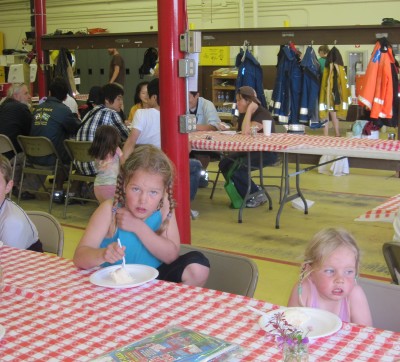 Cheyenne and Robin are having icecream. Brrr it's cold. Especially after being hosed down first.
While we're at the social, we meet Paul. He's the director of operations at Talkeetna Air Taxi. If we're interested, he'd like to take us up in one of the planes for a flight seeing tour of mt McKinley! Of course we're interested! Thanks so much. What an adventure. We plan on doing it tomorrow.
We're all in thought, dreaming our way up the mountain tomorrow, as we're riding back to our site for tonight.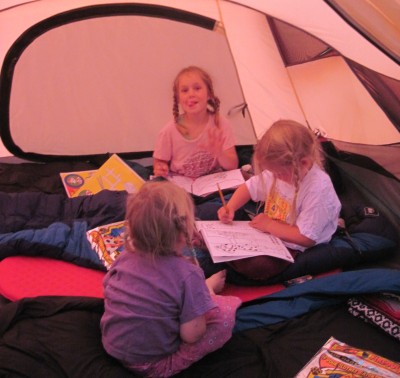 Enjoying the goodies from the fire station.
Click here for more pictures of today.
Today 0 miles, Total 6,193 miles
Campsite: In Karen and Mike's backyard, Talkeetna, Alaska
Weather: Oh no. It's raining!
Flat tires: 0, Total 22
Falls with bicycle: 0, Total 8
Bear Count: 0, Total 2
Moose Count: 3, Total 5
Fox Count: 0, Total 1
We wake up to the rain. That's not a sound we want to hear! We need sun to take our flightseeing tour with Talkeetna Air Taxi.
Mike and Karen open up their home for us to enjoy. Karen is fixing blueberry pancakes. Made with wild blue berries. What a treat. The girls bring in their coloring supplies. Lots of pages to color, lots of stories to read. One of them is the story of smokey the bear. Always a good one.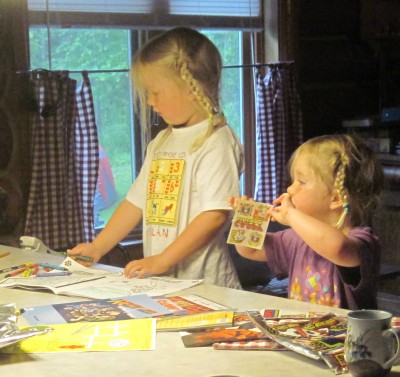 A rainy day is good for indoor color activities.
We keep looking out the window in the hope to see the sun instead of the rain. To our surrise it's not the sun we're seeing, but a moose with her two calves. So close to the house. The moose is incredibly tall. The calves are already as tall as a horse. An impressive sight.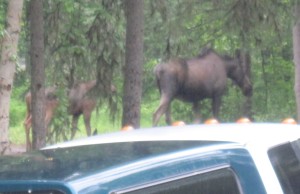 Mamma Moose disappears into the woods with her twins in tow.
With the rain set in for the day, the flight is out the window. What a bummer. Perhaps we'll get the chance another time.
Karen and Mike have a birthday party to attend this afternoon, and we're invited too. It's the birthday of a three year old. Karen already has a gift in mind. She has a teddy bear to give, but the bear needs a jacket. She's going to sew it herself! And Jasmine is right there with her to help her.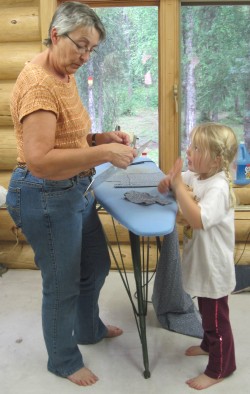 Jasmine attentively listens to Karen as they are working on a sewing a brithday present.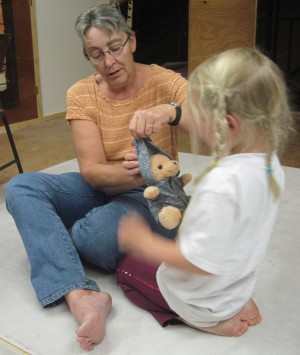 Let's see how it fits.
Once the gift is wrapped all that's left is waiting for the party to start.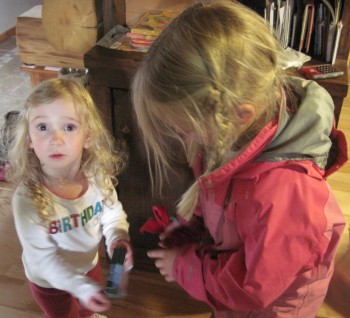 Jasmine insists on giving birthday girl Rahla a gift. She looks through her purse and finds the perfect gift. A little stamp marker. Carefully she wrappes it in a box. Adds a drawing and puts a bow on top. That's so special Jasmine!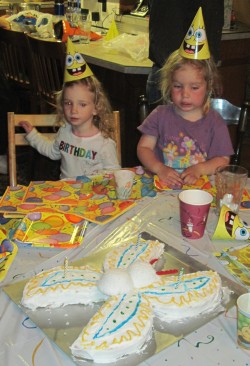 Rahla and Robin are waiting for the butterfly birthday cake.
Thanks for letting us be part of the celebration!
Monday, July 19, 2010
Today 26 miles, Total 6,219 miles
Campsite: At Trapper Creek Inn and RV Park, Trapper Creek, Alaska
Weather: Wet with a dry spell.
Flat tires: 1, Total 23
Falls with bicycle: 0, Total 8
Bear Count: 0, Total 2
Moose Count: 0, Total 5
Fox Count: 0, Total 1
The rain comes and goes, but it's time to move on. We pack up the tent during a dry spell, then wait for the next dry spell to arrive. It arrives as a drizzle, so we take it. Denali is waiting for us.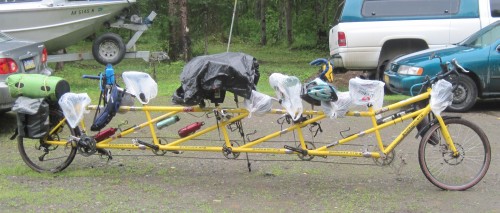 Waiting for a dry spell.
Although the girls are riding in their rain gear, it's not the most enjoyable ride for sure. We're riding through the rain to the hardware store. Here we purchase another tarp in anticipation of rain while we're camping in Denali. This way we'll be able to make a dry spot outside.
Back at the intersection we stop at the filling station. Long enough to have a couple of cups of hot chocolate to warm us up. Long enough for the rain to stop for a while.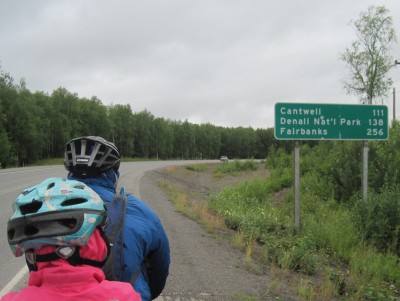 On the road again under a cloudy sky.
We're not quite sure what our destination is going to be for today. Somewhere up the road. Trapper Creek perhaps. We just keep on pedaling. Trying to leave the rain behind us. It doesn't rain anymore, but we do get wet from the mist. What a day. We're glad when we see a filling station up ahead, which turns out to be at Trapper Creek. Next door is a campground where they allow us to set up camp under the pavillion, next to the wood stove.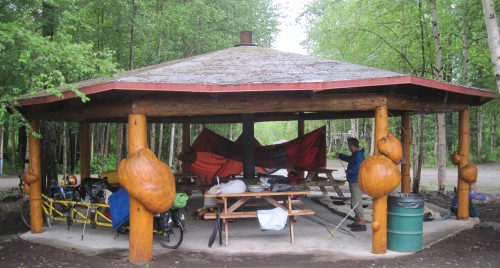 Setting up camp under the pavillion. Everything is soaking wet. Thanks Trapper Creek RV park for providing the firewood and for letting us stay here!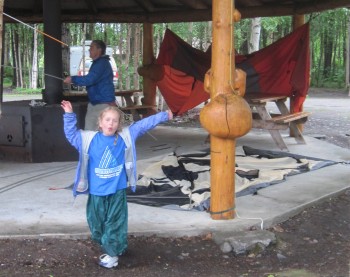 Amazing energy.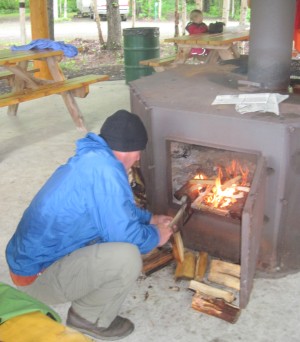 Bill is getting the fire going.
Perfect timing it turns out. As we roll from the filling station to the campground, we see we have a flat tire. Once the fire is going, that'll be Bill's next task.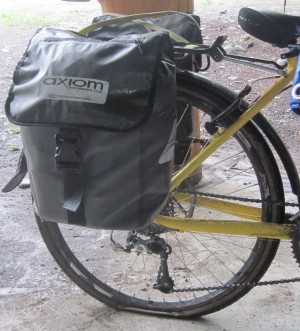 Flat tire number 23!



The release of the tire pressure on the rim, gives the rim it's final twist. No way this rim is going to take us to Denali. We are stranded in Trapper Creek.
Tomorrow it's Tuesday. The new rims should be coming in. The bicycle store is closed today. All we can do is wait and give them a call in the morning.
We can sit and pout, or we can enjoy having a warm place to camp and enjoy being together. Are we frustrated? Yes. But what good does that do us? Not one bit.
The girls are amazing in teaching us how to enjoy each moment. They just start playing. Cheyenne is building a rock tower, then challenges Bill for a race. And she's fast too!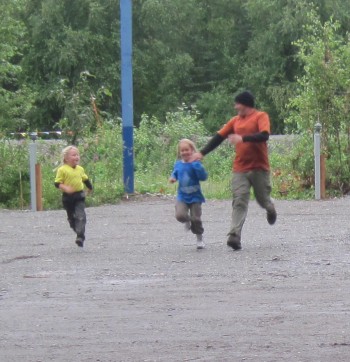 Running race with daddy.

Sisters. What a day of playing.
Click here for more pictures of today.
Today 0 miles, Total 6,219 miles
Campsite: At Trapper Creek Inn and RV Park, Trapper Creek, Alaska
Weather: Rain with a bit of drizzle.
Flat tires: 0, Total 23
Falls with bicycle: 0, Total 8
Bear Count: 0, Total 2
Moose Count: 0, Total 5
Fox Count: 0, Total 1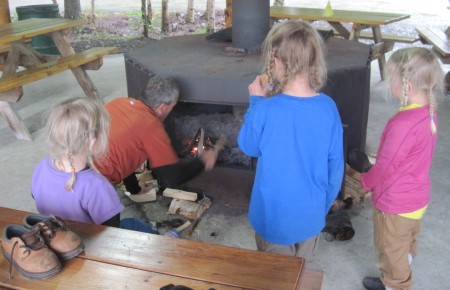 Getting the fire going.
First thing in the morning is to get the fire going. It gets the nippyness out of the air. Next is breakfast. Always important. Then all we have to do is wait. Wait until the bicycle store opens.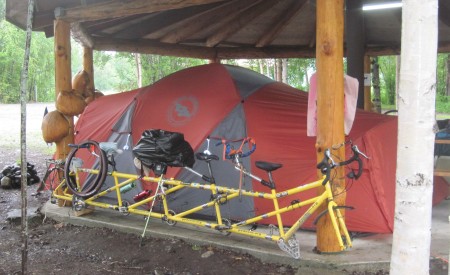 Camp Pedouin with a wheel-less bicycle. We're not going anywhere until we get the rims fixed.
Good news, the rims are coming in today, for sure. Bad news, they don't have time to build the rims for us today. Good news, Bill is going to hitchhike to Wasilla and can wait at Roger's dental lab, until we find out when the rims can be fixed. The shop is not going to commit to anything until they have our old rims.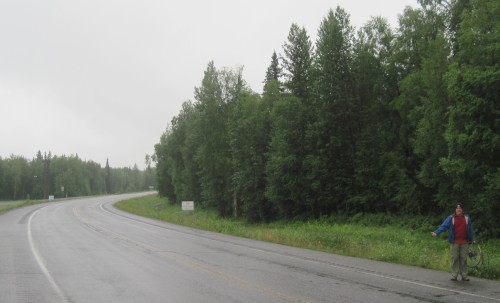 Thumbs up Bill! Good luck on your hitch hike to Wasilla.
Amarins and the girls are staying at the campground. Amarins keeps the fire going. The girls do some coloring.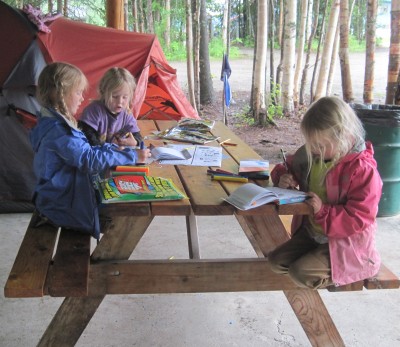 The girls are still enjoying the coloring supplies they received in Talkeetna.
We're all in it together. When one needs to use the bathroom we all head for the bath house. When Robin needs to take a nap, we're all heading into the tent. We're like a duck with ducklings.
From the hangar we head to the inn. We have a nice breakfast sandwich; designed by Bill: tomato, cheese, egg and bacon, all on a grilled bun. Delicious.
And off we are; on our new rims. We're glad we were able to get the new rims this quickly. We'd like to make it to Denali National Park by the beginning of next week. As we ride on the shoulder we realize it was great timing for the rims to break where they did. Every 50 or 100 feet or so there is a deep crack in the shoulder. Bump... bump... bump... We don't think the old rims could have handled it.
It's a cloudy day, but it is still dry. We pedal on. Slowly we climb. Little by little. The broad pass lies ahead of us in the next days. An elevation of 2400 foot. We must be climbing part of the way already.
We're not quite sure of our destination today. We're going to ride to milemarker 133, where there are several options to camp. If we want we can ride on to Byers Lake Campground; a family name and thus an appealing stop.
The ride goes well. It is good to be on the road again. The girls are happy and are humming away. Cheyenne has her eyes on the scenery. That does not go unrewarded! She spots a porcupine right next to the road. The sounds from our excitement spur it on to disappear in the wood line. But not after all of us have gotten a good view of it. What a big one it is. What a beautiful sight.
A Mary's McKinley view lodge we take a lunch break. There are no more places to eat after this one until we reach Cantwell. We're taking advantage of it while we can. As we're waiting for a table to come available, the clouds move away from Mt McKinley just a tiny bit to make the peak visible. Our first sighting since Anchorage.
That was a good break. We feel rested and ready to go to Byers Lake Campground. It's 14 miles from here and we still have most of the afternoon available. 3-2-1 go!
We cross several creeks. Each time we look for salmon and bears. But it is not to be today. We keep on climbing hill after hill.
When we cross Byers creek, we see a place across the road. It is Byers Creek Lodge. A sign for cold drinks lures us in. A good choice. There are two little girls to play with, bicycles to ride (out of all things), and indeed the cold drinks too. We strike up a conversation with the owners and find out they have lived for several years in Mount Vernon, Kentucky! What are the chances of that.
The girls hit it off together. When the owners offer us a cabin to stay in for the night (with bunk beds mind you), the girls don't need to think long. Yes, yes, yes! Of course they want to stay!
We're staying for almost two weeks here in Denali National Park. It will give us a chance to enjoy the park. It will delay our arrival in Fairbanks. It will ommit the inevitable ending of our cross country bicycle ride for almost two weeks. It will also give Bill the chance to visit with his children back east; Adam is finishing his Advanced Infantry Training in Fort Benning, Georgia. Congratulations Adam!
We're taking advantage of the shuttle buses. A car seat is provided for Robin. We can pick one up either at the Visitor Center or at the Wilderness Access Center. The bus drivers are very friendly and share a lot of information about the area. Whenever we see a wild animal we yell "STOP". If it's safe to stop the bus driver will stop and we can observe the moose, caribou or occasionally a bear, for a while. It's a great system. The free shuttle bus takes you all the way to Savage River, 15 miles up the park road. There you can enjoy the gravel bars, the 2-mile trail or a hike up to Savage Rock. Mount McKinly is visible from Savage Rock; weather provided.
Savage River is our favorite spot to visit. There is always wildlife to spot during the ride there. When we get off the bus at mile 15, we can leave the car seat at the ranger post. Then off we are. Whether it is walking the trail, climbing up to Savage Rock, or playing on the gravel bars in the river.
Camping is a great way to make new friends. It is also great for old friends to come and visit, since we're staying here for a while.
A skeleton, computers, coloring supplies, puzzles; there is a lot to see and do at the learning center.
Three times a day there is a dog sled demonstration at the dog kennels. The shuttle bus takes us right to it. After visiting for several times, we're getting to know some of the dogs by name. On in particular has our interest: Keta. Keta is pregnant and will have pups any day now. New strenght for the kennel. The dogs are very important to the park. During the winter months the wilderness area of the park is patrolled by rangers on dog sleds.
Several businesses in town have a free shuttle bus to take you from the campground (or anywhere near the visitor center) to town and back. We take advantage of this several times.
Every evening at 7.30 pm you can attend a ranger program at the amphitheatre at Riley Creek Campground. We've attended four evenings. We've learned about the lynx, the grizzly bear and black bear, geology and raptors in the park. A great way to learn more about the residents of the park.
We have seen an abundance of wildlife during our stay in Denali National Park. Wildlife in its natural environment is a beautiful sight.
Staying clear from wildlife is one of the first things you learn when you're in the park. It makes it hard to get good pictures if you're not equiped with a very big zoom lens. For ourselves we have enjoyed seeing the animals with our eyes, eventhough the picture opportunities were not always there. It's a beautiful experience to be here.
The girls have worked hard with their discovery back packs and their ranger booklets. They are deserving of the Junior Ranger Badge.