Training, a well known word, but what does it mean when it comes to such a long journey on such a peculiar vehicle? For us it means becoming a team that works together for everyones benefit. Getting in shape so we can enjoy the day to day rides. In short, we need to be Ready to Ride (day after day).
Getting in shape involves more than just hopping on the bike and going. We need to get on the bicycle as a team. We need to pedal as a team. And we need to stop like a team.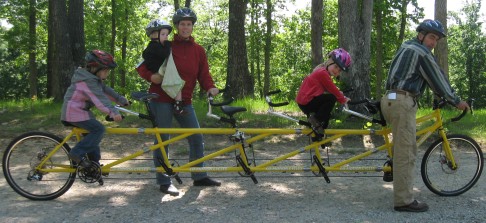 Each time we practice we will become more in tune with each other. Some simple commands for getting on the quint bicycle and for getting off already help a lot. It works especially well for Bill, since he can't really look behind him and see who has her feet in the pedals and who doesn't.
The months are passing quickly. We have concluded our first month of training. A month where we had our first disaster and our first fall...
The second month of training has been a great success. We are riding on the quint bicycle together now. It is a wonderful feeling. We are ready to get on our journey, but we still have one more month of training before we depart on August 1.
We are in our last month of training now. In the mileage log you can read about how we keep improving as a team and of course as well how many miles we have pedaled.
Step 1 - How to get on the quint bicycle

Bill's job as the Captain is to keep the quint straight while everyone else gets on. Robin, Jasmine and Cheyenne will be getting on one after the other. Amarins' job will be to make sure that all three girls have their helmets on correctly and are secured in their seats.
Until we have a solution for Robin's back rest, Robin will ride with Amarins on a regular bike. Jasmine and Cheyenne get to ride with Bill on the quint.
| | |
| --- | --- |
| | |
| Securing the helmets | Sitting on the quint |
Step 2 - How to pedal as One

Once we are in our seats, we can start pedaling. With a bicycle that is almost 15 feet long, the hard part is to keep it steady. As stokers we need to pedal pedal pedal. Everything else, and pedaling too, is in the hands of Bill. He needs to find the proper gear to ride in while his eyes are scanning the road for the perfect path.
| | |
| --- | --- |
| | |
| First practice with Bill and Cheyenne | First practice with Bill, Jasmine, Amarins and Cheyenne |
Step 3 - The finish line

After a ride the final touch is getting off the bicycle. When everyone is safely off the quint, the captain can breath freely again. Maiden voyage complete.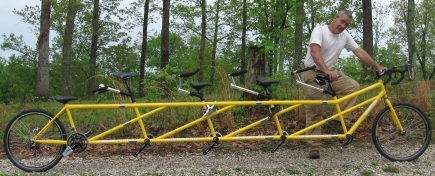 Maiden voyage complete
We do not know how much training we will need before we are ready to go. We do know that we have our departure set for August 1, 2009.
---
Go from Training to our Mileage Log

Return to Pedouin Home Page
---
Contact Us Grassroots Support System Privacy Policy Disclaimer Home