The Pedouin First Month Mileage Log
This is the first month of keeping a mileage log. We keep it because we are curious how many miles we will actually practice before we take off on August 1, 2009. As well because we need to know what we are actually capable off.
In this first month you can read how we had our first disaster and our first fall. We also experienced a tremendous learning curve on how to shift gears.
We have finished our second month and third month of training.
| | | |
| --- | --- | --- |
| 05/18/2009 | Today | Total |
| Bill | 8.2 | 8.2 |
| Jasmine | 0.5 | 0.5 |
| Robin | 0.0 | 0.0 |
| Amarins | 2.0 | 2.0 |
| Cheyenne | 7.2 | 7.2 |
05/18/2009 We took our first ride with the quint bicycle today. The bike turns like a sled according to Bill. The turning circle is probably around 30 feet across (as big as a three lane road).
After Bill's first mile, Cheyenne was ready to get on. Having that weight on the rear tire certainly made a big difference. The bicycle has much more traction on the rear wheel. Cheyenne's pedaling effort covers at least her own weight. She looks delighted to be on the bike.
Our training circle is actually up and down the same road. 3.6 miles one way. The end of the road is just big enough to turn the quint around without having to get off.
Here we added Amarins and Jasmine. Taking off is rather shaky, but we are doing it! We are riding. A little down the hill, the wind in our faces, Jasmine shouting 'This is neat!'. A great feeling...
...Until we had to go up the hill. A little trouble with shifting into low gear. And a dead standstill, with us almost falling over. It was not so neat anymore, so Jasmine decided to let it be for the day.
Arriving back home, Amarins about passed out. Well, perhaps a little exaggerated, but she sure can't remember the last time she had this kind of workout.
| | | |
| --- | --- | --- |
| 05/19/2009 | Today | Total |
| Bill | 7.2 | 15.4 |
| Jasmine | 7.2 | 7.7 |
| Robin | 7.2(r) | 7.2(r) |
| Amarins | 7.2(r) | 2.0/7.2(r) |
| Cheyenne | 7.2 | 14.4 |
05/19/2009 Jasmine is ready to ride. As long as we promise not to stop up hill. All we can do about that is try. Cheyenne is on the bike already. Prepared for take-off.
This time Amarins will ride the regular bike with Robin in the child seat. Before Robin can ride on the quint bicycle, we first need to get her a back support with straps to secure her to the bicycle. Miles on the regular bicycle are marked with a (r).
The training goes very well. Bill still doesn't have the gears totally figured out yet, but is getting better at it. With both Jasmine and Cheyenne pedaling it sure helps when another hill has to be climbed.
| | | |
| --- | --- | --- |
| 05/20/2009 | Today | Total |
| Bill | 2.5 | 17.9 |
| Jasmine | 2.5 | 10.2 |
| Robin | 2.5(r) | 9.7(r) |
| Amarins | 2.5(r) | 2.0/9.7(r) |
| Cheyenne | 2.5 | 16.9 |
05/20/2009 Instead of taking the car to bring Jasmine to her school, we decide on taking the bicycle. We take a little detour down a steep hill. Cheyenne and Jasmine are cheering with joy.
Robin is with Amarins on the regular bicycle again. Robin peaks around Amarins to see where the others are. They went so fast!
Going back up the hill the gears are crunching. Bill can't get it into the lowest gear. Something looks off, but inexperienced as we are when it comes to tandem bicycles, we don't see what is wrong. Eventually we make it back up the hill and arrive safely at Jasmine's school.
On the way home, the gears crunch even more, until we are really stuck. Damage has been done.
First disaster = First lesson learned
| | |
| --- | --- |
| | |
| Warped derailleur bracket | Staightened derailleur bracket |
All this mountainous terrain and inexperience with shifting, caused the derailleur bracket to bend. The derailleur ended up in the spokes. At least we stopped before it could do any more damage.
We now know that it was caused by what is called 'extreme cross chaining'. A new derailleur had to be bought. An expensive lesson.
Training is over until the new part has arrived and has been put on the quint. The warped derailleur bracket was straightened out by our local bike shop, Mike's Hike and Bike.
| | | |
| --- | --- | --- |
| 05/25/2009 | Today | Total |
| Bill | 14.8 | 32.7 |
| Jasmine | 14.8 | 25.0 |
| Robin | 14.8(r) | 24.5(r) |
| Amarins | 14.8(r) | 2.0/24.5(r) |
| Cheyenne | 7.6 | 24.5 |
05/25/2009 We are back in business. The derailleur arrived over the weekend and has been put on the quint by Bill, while carefully reading all the instructions.
With Amarins right behind the quint to keep an eye on the bracket and derailleur, we are off again. This time it is just Bill and Jasmine on the big yellow bike, as we like to call it. (Our house is called the big yellow house, so I guess this just fits.) Cheyenne is playing at the neighbors.
Going ever so careful, we make it full circle in about 45 minutes. Jasmine is riding like a princess. Looking around her and enjoying the sights.
Some local dogs are still not used to us, so they run and bark for about halve a mile until we are out of sight. This repeats itself on the way back. It will be interesting to see when they quit doing this.
After a good supper and some more adjustments to the derailleur, we are off again. Cheyenne is back home, so she gets to ride. She was not to pleased that we went without her and she decides that Jasmine has had her turn. But it doesn't work that way of course.
As a treat we ride to a little playground at the end of the road. As if they have not been on the bike at all, they run towards it and swing and slide until their hearts are content.
Taking off is going better each time. All this practice is helping a lot. A better understanding of how the gear system works is also bearing fruit. Shifting up or down the hill is getting smoother already.
It has been a very fulfilling day, with a total of 14.8 miles. A distance we are quite proud off.
| | | |
| --- | --- | --- |
| 05/26/2009 | Today | Total |
| Bill | 5.4 | 38.1 |
| Jasmine | 5.4 | 30.4 |
| Robin | 5.4(r) | 29.9(r) |
| Amarins | 5.4(r) | 2.0/29.9(r) |
| Cheyenne | 5.4 | 29.9 |
05/26/2009 We have decided to increase our training loop with 2.5 miles. Up and down to the firehouse. It takes us over the ridge, with one mentionable dip in it (decline and incline).
We live in a very beautiful part of the country. Going out on a bike ride makes us realize this even more. The spring is in full show, wildflowers galore and majestic trees full of the brightest green leaves.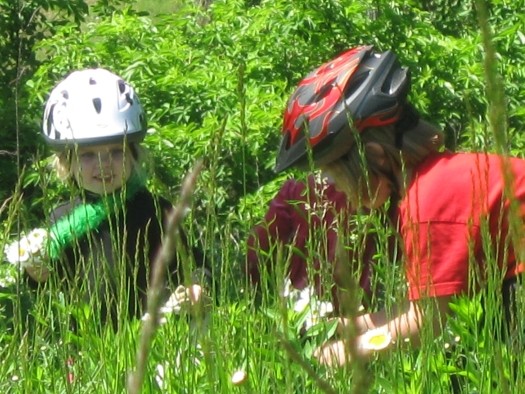 Coming back from the fire station, it started to rumble... Thunder is in the air. On top of the ridge we can see where the storm is coming from. We decide to go just a little further and then come back home.
A short trip this day, but we are glad we went out riding. This is spring weather. The storm eventually went around us. But safety first.
| | | |
| --- | --- | --- |
| 05/27/2009 | Today | Total |
| Bill | 7.4 | 45.5 |
| Jasmine | 7.4 | 37.8 |
| Robin | 7.4(r) | 37.3(r) |
| Amarins | 7.4(r) | 2.0/37.3(r) |
| Cheyenne | 7.4 | 37.3 |
05/27/2009 We are going out for a round again. The girls are eager to go as soon as Bill comes home from work. 'Let's go riding daddy!' How about daddy sitting down for a moment?..
We never really used the playground facility, but we sure are now. It makes a difference to arrive there by car (with all the hassle of buckling up the girls) or by bicycle. It takes us about 20 minutes to get there. But it is such a fulfilling feeling when we get there. It's pure enjoyment.
With the consistent exercising our calorie intake is going through the roof. More protein, more vegetables, more homemade applesauce. Yummie. What do the girl like after a bike ride? Triple P: Popsicle, Popcorn and Pudding. Hmmm, perhaps we need to start covering the nutrition subject a bit more.
| | | |
| --- | --- | --- |
| 05/28/2009 | Today | Total |
| Bill | 7.8 | 53.3 |
| Jasmine | 7.8 | 45.6 |
| Robin | 7.8(r) | 45.1(r) |
| Amarins | 7.8(r) | 2.0/45.1(r) |
| Cheyenne | 7.8 | 45.1 |
05/28/2009 Gadget Day! We have a bicycle computer now. The exact distance to the playground is 7.81 miles. This means we have actually made more miles than we have realized. Numbers, numbers, numbers, what would we do without them?...
7.81 total miles for today. It took us exactly 44.29 minutes to cover this ground. Which gives us an average speed of 10.54 miles per hour. How could we ever have pedaled without this knowledge?
Even better, we now now the maximum speed we went today. Incredible, we did 35.16 miles per hour! Cheyenne and Jasmine where cheering with joy. They have never felt the wind in their faces like this. As you can understand this speed was obtained going downhill. Uphill we went a whopping 3.14 miles per hour. That averages things out a bit more.
First Fall
Another new experience today. A fall... To get to and from the playground we need to get through a little grassy area, with a sharp curve. Bill has discovered that it is impossible to keep the bike up when it is going too slow when trying to make the curve. The positive part of the fall was the soft landing in the grass. Both Jasmine and Cheyenne where a little shook up with the experience, but climbed back on and made the trip home without a problem. Our little troopers.
| | | |
| --- | --- | --- |
| 05/30/2009 | Today | Total |
| Bill | 0.0 | 53.3 |
| Jasmine | 0.0 | 45.6 |
| Robin | 7.8(r) | 52.9(r) |
| Amarins | 7.8(r) | 2.0/52.9(r) |
| Cheyenne | 0.0 | 45.1 |
05/30/2009 Bill has taken Cheyenne and Jasmine to see his boys this weekend. Adam is getting ready to go to college and Jesse will spend the month with us. Today it is just Amarins and Robin going for a ride.
It makes a difference if you have a purpose. Our purpose is to get in shape as much as we can before we take off. Without it we probably would have skipped this enjoyable moment of being together in the outdoor air.
As is becoming a habit, we went to the playground again. Robin loves to be on the swing. 'Higher, higher.' More wind in her hair.
It was a pleasant ride, with this time a little headwind. That is not very common here in Kentucky. Here in the foothills of the Appalachian Mountains the wind does not blow that much.
| | | |
| --- | --- | --- |
| 05/31/2009 | Today | Total |
| Bill | 0.0 | 53.3 |
| Jasmine | 0.0 | 45.6 |
| Robin | 10.3(r) | 63.2(r) |
| Amarins | 10.3(r) | 2.0/63.2(r) |
| Cheyenne | 0.0 | 45.1 |
05/31/2009 Today Amarins and Robin are off again. We are maneuvering the hills smoother every time. Robin knows exactly where Mommy needs a break and some water. She is pointing from a quarter mile away. We have come to call the spot the Watering Tree.
After visiting the playground, another word Robin has added to her vocabulary, where we eat some crackers with peanut butter, we are off again. We decide to go to the Firehouse and back.
A little bit past the firehouse we see some beautiful purple wildflowers. Certainly worth a closer look. We decide to pick some and take them to our neighbor Jane. We are in luck Jane was just fixing pancakes. Yummy. That tastes great after a long (...) bike ride.
Overview of first month of training
The first month of training has been a very positive experience. We have already increased our endurance. Especially up hill. Of course it is going to be different when we really get on the road. We can't anticipate the mountains as we can here. Our training loop has become familiar terrain now.
Read more about our training experience in our second month.
---
Read about our Second Month of Training

Return from First Month Mileage Log to Training

Return to Pedouin Home Page
---
Contact Us     Grassroots Support System     Privacy Policy     Disclaimer     Home