From the Pacific Ocean into the Big Ditch
and over the Colorado Plateau
From Pacific Palisades, CA, to Phoenix, AZ.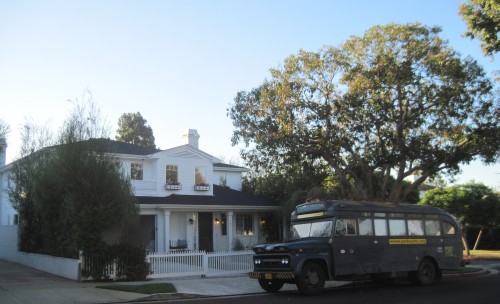 Morning over Pacific Palisades.

Upside down exercise.

Drive by shooting of a Hollywood star: Joni James. We had no clue who she was, but found out later: Click here for more on Joni James.


Sarah: From Kentucky to California.

Playtime with Little Hands.

The Kentucky flag welcomes us back to Encinitas.

Exotic fruits from Malibu.

Dress-up time with Mae.

Jasmine and Melissa.

Robin makes discoveries at the Rueben H. Fleet Science Center.

Robin and Mae explore Kid City together.

Cheyenne and Kai working on a building project.

Sunset over the Pacific Ocean. Twenty months after arrival on Yeller, we're here once again.

Poolparty at Lake Wohlford Cafe.

Thanks Pam!

Thanks Phillis!

Evening over California, on our way to Joshua Tree.

Punky and Bandit are ready for a ride on Old Blue.

Into the desert north of Joshua Tree National Park.

Bringing back memories of a windy picnic at milemarker 100. It's fun retracing some of our route.

Old Blue is ready for take-off at one of our old campsites.

Robin is taking a hike on BLM land, where we're camping for the night.

Cheyenne and Jasmine are already high on the butte; the destination of our hike today.

Bill helps Robin to the top, where Jasmine and Cheyenne are already waiting for their arrival.

It's wonderful at the top!

Isn't it a great shot of ants on the rocks?

Jasmine and Robin are playing with items they've found lying around.

The sky to the west.

The sky to the east.

We've arrived early in balmy Phoenix, AZ, to be plenty on time for another REI presentation.

After presentations at Phoenix & Tempe REIs, we're staying a couple of days with Karrilee, Rilee and Sydnee, before heading to the airport to fetch Saskia for an adventure in the Grand Canyon.
---
From Alaska through Canada back to the Lower 48.
Going round and round in Washington and Oregon.
---